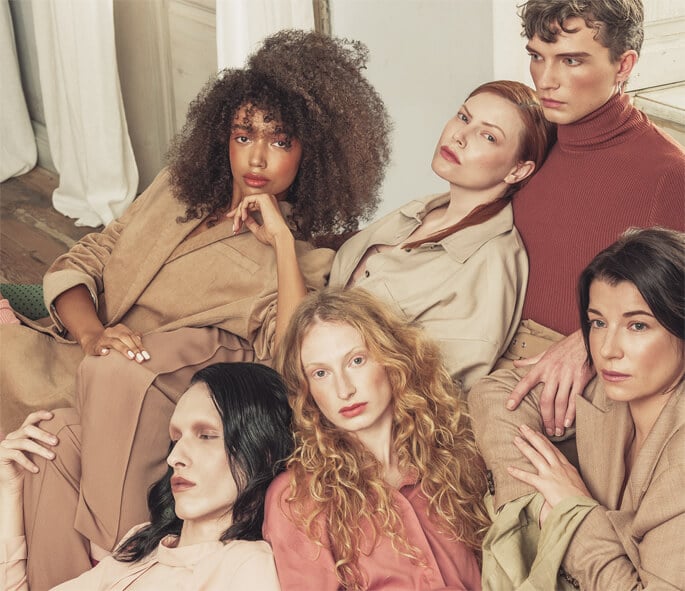 Producer Linda Lindenberga
Director / DOP Peteris Viksna
Art Direction Liene Drazniece, Agnese Marksa
MUA Viktoria Breiksa
Style Liga Banga
Sound Karlis Drukteins, Dirty Deal Audio
The makeup story
sneak behind the scenes
When the final shades of the long-awaited MÁDARA lipsticks were swatched, a magnetic, earthy colour story unravelled before our eyes. This led us down a path of exploration — of Northern nature, of the relationship with ourselves and others, of our memories and yearnings, of all the versatile experiences that being a human implies.

One early summer morning in 2020, we went to an old dreamlike 15th century Latvian manor to turn this barely tangible thread into a visual experience. We asked the creative team and our muses to share some of their truths.
Shop the collection
ALWAYS INNOCENT, NEVER BORING.
From top-performing foundations and concealers that are perfectly compatible with your skin, to shameless tints for the cheeks and lips, cosmic highlighters and statement lipsticks.
From Ancient Egypt to David Bowie – the Boldest Milestones in Makeup History
READ ON THE BLOG | 5min
Makeup as camouflage, as enticement, as provocation, and as a means of self-liberation
MÁDARA x Art Academy of Latvia
Set the mood
with Velvet Wear-inspired playlists
4 lipstick shades, 4 different moods
Tone set by Paula Tisenkopfa
Co-Founder of MÁDARA
50 min
These statement tracks will groom your self-esteem and evoke beautiful memories to remind you of how cool you really are.
Tone set by Liene Drazniece
Co-Founder and Art Director of MÁDARA
50 min
Creative storms, travel memories and endless curiosity, all fused together for an intense, unruly experience to give you that extra fuel for the day.
Tone set by Lotte Tisenkopfa-Iltnere
MÁDARA Founder and Creative Director
50 min
These sensual sounds will nurture your soul, helping to reconnect with your inner powerhouse.
Tone set by Elina Brukle
MÁDARA Communications
50 min
Embrace the unexpected that feels familiar from the first encounter. Deep beats, husky vocals and sharp contrasts here.
The Virtual Try-On
Not sure about the right shade? Try it on virtually
Any questions or need assistance?